Title: Cruel Crown
Author: Victoria Aveyard
Publisher: Orion
Publishing date: 2016
Pages: 208
Price: £4.79
ISBN: 9781409165330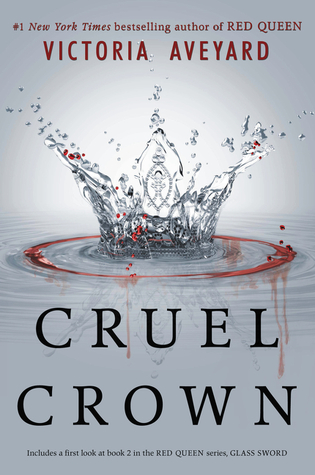 Summary:
QUEEN SONG – Queen Coriane, first wife of King Tiberias, keeps a secret diary how else can she ensure that no one at the palace will use her thoughts against her? Coriane recounts her heady courtship with the crown prince, the birth of a new prince, Cal, and the potentially deadly challenges that lie ahead for her in royal life.
STEEL SCARS – Captain Farley was raised to be strong, but being tasked with planting the seeds of rebellion in Norta is a tougher job than expected. As she travels the land recruiting black market traders, smugglers, and extremists for her first attempt at an attack on the capital, she stumbles upon a connection that may prove to be the key to the entire operation Mare Barrow.
Review:
These short stories split my opinion so I'll start with Queen Song.
I absolutely loved this story. Being able to see the character of Queen Coriane and her full story was amazing although I definitely felt like it could've been longer. Whenever she has been mentioned in Red Queen or Glass Sword I always wanted to know more about her because she seemed like an interesting character. Obviously I could've read these short stories before I read Glass Sword but I'm not that smart.
Steel scars on the other hand, I didn't enjoy quite as much. The way the story was told was interesting and unique – the use of the messages between Farley and the Scarlet Guard were interesting to read but also a bit difficult to first understand. The messages aren't something you can skim read, you've got to concentrate to understand who is saying what and to whom. Also, I feel like this story was basically just to set up the relationship between Shade and Farley and, although could be regarded as useful backstory, I don't think fully necessary. Instead of being focused on the Scarlet Guard and their operations behind the scenes of what was happening in Red Queen, the story was used to set up Shade and Farley.
Overall, the book as a whole was really enjoyable to read and I would definitely recommend it if you're reading the Red Queen series as it does supply some interesting back story.
My rating: 4.6/5
Let me know what you think of Cruel Crown in the comments!